Some of you know that I have been sharing on entrepreneurship in another medium.
The first biography of an entrepreneur I read was on Thomas Alva Edison, the prolific American inventor.
I was doing my second year in Science (I was 19 then) and that had quite an impact on me, even though I was more a theoretical type – not a technical type.
(I am sharing some things about Edison in the other medium next week.)
I just read something about him this afternoon.
Edison left school at the age of 10 and was taught by his mother (a former school teacher) the basics of numbers and letters.
After that he learned almost everything else on his own.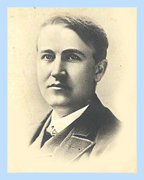 There was a time when he was struggling and was sacked by the company he worked for for not concentrating.
He borrowed $35 from a friend and went to New York, the "big apple".
Interesting things happened there. He solved a problem for the stock exchange company there and they made him supervisor over the operations – just like that. (He was a true problem solver.)
While there he continued on his private projects, including working on a stock-ticker, a kind of counter.
Shortly after, he almost fainted when he was paid a cheque of $40,000 (that is big, big money in the 1800s) for the stock-ticker.
This was the first "real" money that he received for an invention. He stared in amazement at the cheque and walked around it for hours.
The next day, a friend told him to deposit the money.
A few weeks later he wrote to his parents (who were also struggling; and the mother had fallen sick). A letter addressed to his father read: "How is mother getting along? I am in a position to give you some cash … Write and say how much ... Give mother anything she wants."
He also did not forget to pay back his friend the borrowed $35.
NOTE: It is my personal belief, that there are inventors already here in PNG, our young. Only time will show …
Again I say … PLAN BIG … AND PUT IN THE EFFORT … Cheers.